Dairies should not miss from our daily meals because they are the main source of calcium and not having enough calcium can lead to growing related diseased, serious illness and high risk of bone fractures for adults and elderly persons.
When to eat dairies?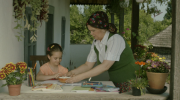 Click to enlarge
Milk is to be consumed usually for breakfast or before bed time. Because they have a wide range, yoghurts can be consumed anytime trough out the day, after the main meals of between them. As a snack, breakfast, a quick meal at work or a light dinner fresh cheeses are highly recommended.
Branzica de Casa Covalact de Tara, Fagaras Covalact de Tara of Branza proaspata slaba de vaci - Fresh cow cheese Covalact de Tara are ideal for a healthy light meal. Cheese are amongst the best sources of calcium and they are recommended especially for growing children but also for older persons as they strengthen the bone system and prevent osteoporosis. 
Calcium is better assimilated from cheeses better that it is from milk as 100 g of fresh cow cheese has 90 mg calcium.

Milk is very important in the fight against obesity.  A daily consumption of 400 ml of dairy can reduce the risk of obesity with up to 70%, and a diet rich in calcium accelerates fat burn, and helps maintaining a beautiful line. Low fat milk is a must in and slimming diet.

In order to prevent osteoporosis, the constant milk and dairies consumption has to come in line with a balanced diet, rich in calcium and vitamin D, sports, giving up smoking and limitation of the alcohol consumption. Annual visits to the doctor must include bone density analysis especially after menopauses.

For more about dairy consumption benefits you can ask the nutritionist.