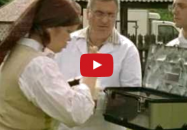 Click to enlarge
Created in 2010, Covalact de Ţară brand was supported with TV commercial and project targeting distribution increase. From a locally distributed brand in 2007, Covalact de Tara becomes today a national brand that can be found on the modern trade shefls but also in small retailers
Thus, the brand's notoriety Covalact de Are increased significantly thorough 2011, and it was chosen by the Romanian consumer as Super brand, along with other 300 brands, in 16 different categories.
Currently Covalact de Țară is market leader or has top positions in several dairy categories, such as: Brânzică de Casă, Făgăraș, Brânză proaspătă de vaci, Lapte Bătut, Sana.
In 2012 Covalact opens at Sfântu Gheorghe the new dairy logistics facility, following a 5 million lei investment. The storage has a capacity of 1.400 pallets, the equivalent of over 700 tons of products and is serving the two factories of the group, Sfântu Gheorghe and Miercurea Ciuc.